A simple foolproof tank level indicator that requires no power or batteries. Accurate, dependable, and reliable.
Superior Quality: Constructed from stainless steel, these tank level indicating gauges will never rust and are built to last a long time. Ingenious design allows tank liquid level on inside to be visibly seen from outside of the tank.
Highly Visible: The black indicator has a bright white, highly reflective band across it, making it visible from hundreds of feet away. At night, shine a flashlight or headlights on it and the reflective band will light up for the viewer.
True Reading: Unlike homemade water level gauges that rise up the tank when the water level goes down inside the tank, the LiquiLevel shows the actual water level. What you see is what you have. Simplicity: No gimmicks, no batteries, just a simple float/weight/pulley system.
Easy to Install: All necessary items (template, instructions and hardware) are provided to make it easy for the handyman to mount the LiquiLevel on the tank roof.
Reliability: Built with quality materials and large, free-running pulleys, the LiquiLevel water level gauge provides reliable service year in, year out. Includes three year limited warranty.
FEATURES:
All new stainless steel construction
Highly visible with light reflective level indicator and easy to install
Safe for most chemical tanks as well!
Suitable for rainwater tanks up to 16 feet deep
LiquiLevel XL Plus system available for tanks up to 32 feet deep (see ORDER INFO)
Cable guide wire helps ensure longevity of gauge and provides added level indicator stability
Includes a 3 year warranty
---
PRODUCT MANUALS
LiquiLevel Installation Manual
---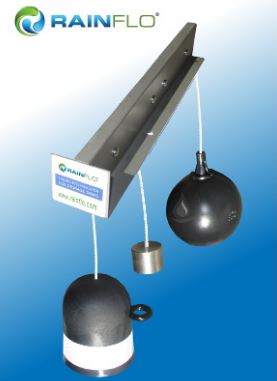 ---
RainFlo LiquiLevel Plus Tank level Indicator
Simple pulley and counterweight system with free hanging indicator on outside of the tank. Includes 16 foot guide wire. Suitable for tanks up to 16 feet deep.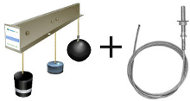 The included LiquiLevel guide wire system is recommended for use on all LiquiLevel installations (see more info below). The guide wire system is simple to install and designed to keep the Level indicator plumb to prevent it from being knocked, and from swinging from side to side in extreme weather conditions.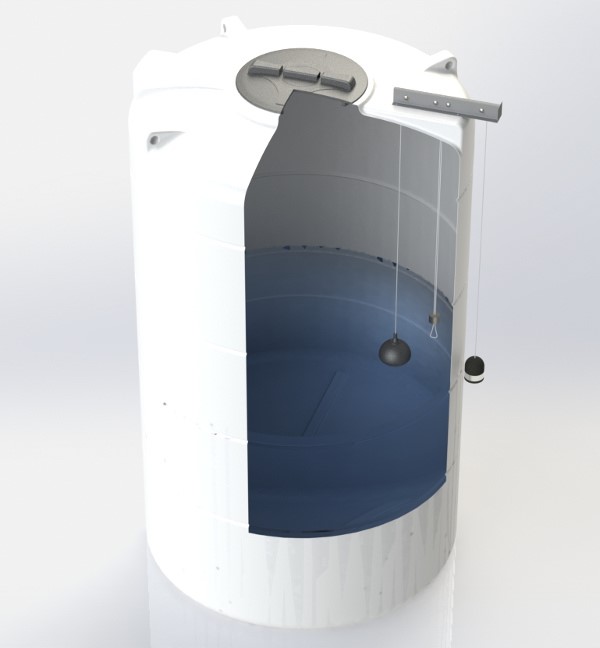 How it Works: The weighted float and indicator are connected to the counterweight by separate cords, each cord running over a pair of pulleys. When the float is half-immersed, everything is balanced. Rising liquid level lifts the float up, the counterweight moves down, and the indicator keeps pace with the float. Falling liquid levels causes the weighted float to pull the counterweight up, and again, the indicator keeps pace with the float. At all times the indicator matches the liquid level exactly, even when installed at an angle.
---
ORDER INFO
RainFlo LiquiLevel Plus Tank Level Indicator System with 16 foot Guide Wire
Item # RNFLO....$219
---
RainFlo LiquiLevel XL Plus Tank Level Indicator System
Same system as above but suitable for tanks up to 32 feet deep. Includes 32 foot guide wire.
Item # RNFLOXL...$239
---