Web-Based Monitoring and Alarm Notification

The ALL NEW Sensaphone Web600 provides flexible web-based remote monitoring at an affordable price. Keep track of fuel levels, critical temperatures and other conditions and be notified immediately when current values exceed the normal range. Completely standalone and easy to use, the Web600 can be used for monitoring fuel levels, cold food storage, medical cold storage, and other temperature sensitive areas like computer rooms and data centers. In addition to temperature monitoring, the Web600 can also read values from humidity sensors, air quality sensors, water leak detection sensors and much more

.


FEATURES:
Receive an e-mail alert or a text message when sensors detect abnormal conditions

Program and configure the device from the web

View live status and history from the web

Monitor fuel levels, the environment, power failures, leaks, opened doors or windows, smoke and more

Six inputs for connecting a variety of sensors

- Each input zone can be connected to a temperature sensor, an analog transducer, or a dry contact switch. - Normally Cosed/ Normally Open Dry Contact, 2.8K/ 10K Thermistor, 4-20mA Current Loop
Optional battery backup: With the addition of the optional battery backup module, the Web600 can monitor for power failures and stay operational for two full hours while the power is out.
Power, Battery Backup and Ethernet Ports
WEB600 connections
Optional Battery Backup
Sensor Inputs:
Connect up to six external sensors to monitor a variety of equipment and co
nditions. Each input zone can be connected to a temperature sensor, an analog transducer, or a dry contact switch.
Web Status:
Live status and history is only a webpage away. The Web600 built in web server provides quick and easy information about your monitored conditions. Even time stamped history reports are readily available online.

Alarm Notification:
When monitored conditions exceed normal values, the Web600 will notify you immediately be sending out e-mail alarm messages, and even text messages. Up to eight people can be contacted to make sure that proper action is taken.

Web Programming:
Built in web server for easy access to programming and status. Just point your browser to the Web600's webpage and fill in the blanks for a quick configuration.
Network Configuration
The network configuration is automatic if your network supports DHCP. You simply plug one end of supplied network cable into the Ethernet port and one end into your network device (hub, switch, router, modem, etc.) Then turn on the power. The startup sequence begins within a minute or two. Then install the Sensaphone locator application found on the CD (included) or from the Sensaphone website
Relay Output:
The WEB600 now includes a relay output that can be used to control a light, siren, or other low voltage device when an alarm occurs. The Output can operate in Manual mode - which simply means you can turn the relay on and off through the web page, or you can select Automatic mode - which means the output can switch whenever one or more alarms occur. You can also give the output a name to describe the device being controlled (e.g. strobe light, siren, ...).
• Relay output rated for 1A 30VAC/ 1A
30VDC Maximum

SENSAPHONE WEB600 COMPLETE FUEL MONITORING SYSTEM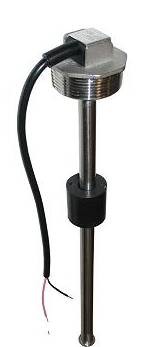 Now monitor fuel levels and temperature via internet with the complete Fuel Minder Store Sensaphone WEB600 Fuel Monitoring System (now that's a mouthful!)
System includes:
2.8k-ohmMagneto Resistive Fuel level Sensor
all parts required for installation
The 2.8k-ohm output emulates a 2.8k-ohm thermistor and is compatible with controllers such as the Sensaphone-400 or Sensaphone Web-600, providing fuel level monitoring and control via internet (display shows 0-100% FUEL LEVEL).
(Standard vertical and horizontal tank sizes available--Contact Us for custom size tanks
An unbeatable system for anyone who desires internet monitoring and control capability!
SENSAPHONE WEB600 OPTIONAL SENSORS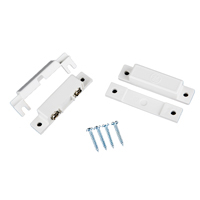 The magnetic reed switch may be used with all Sensaphone models to detect any unauthorized entry or intrusion. They are usually installed on doors and windows to detect their opening and closing. Several magnetic reed switches may be wired in series.


The passive infra-red motion detector can be used with all Sensaphone models to monitor the movement of warm bodies in a specific area. It will cause an alarm if motion is detected. Its range of detection covers approximately forty feet of area. Multiple sensors can be wired in series to a single output.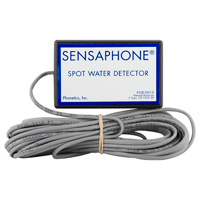 The water detection sensor can be used with all Sensaphone models to detect the presence of water on a horizontal surface. Independently powered by internal lithium batteries. The batteries should last for approximately 3-5 years. When the batteries start to run down, the sensor will automatically cause an alarm dial out when no water is present. Multiple sensors can be wired in series to a single input.