The RS-090-E is a complete, installation-ready solution for managing and reducing losses caused by washing machine failures. The system consists of an outlet box with built-in leak detection receiver for simultaneous automatic hot and cold water shut-off.
The kit also includes pre-installed water hammer arrestors on both the hot and cold water lines and a leak detection water sensor which sits on the floor next to or under the washer.
System installation is easy with provided mounting straps and trim plate. The system works off standard 120V AC wall power – no hard wiring is required.
FEATURES:
Standard 120V wall plug power – no wiring required

Water sensor with 8' lead wire

Leak LED and audible alarm

Integrated water hammer arrestors for hot and cold water lines

1/2" NPT brass fittings (supply line) and 3/4" NPT brass fittings (feed line)

Outlet box with (4) mounting straps and trim plate

Meets UL 94 5VA flammability standard

System is reusable – when the alarm sounds, fix the problem and press the reset button for continued protection

Installation may make you eligible for an insurance discount
---
APPLICATIONS:
Assisted living facilities

New construction and retrofit
---
Restrictions and Compliance
This product is not intended for potable water applications (human consumption – drinking and cooking) and has not been designed to be compliant with the "Safe Drinking Water Act" requirements for low lead in potable water applications. This item is for use, only, in non-potable (non-human consumption) water applications.
This is a restricted item. It cannot be used in the USA for potable water applications.
We suggest utilizing a licensed plumber for all installations to ensure compliance with local codes.
Model RS-090-E - Washing Machine Leak Detection & Auto Shut-Off System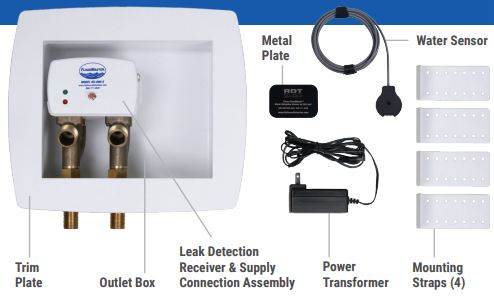 Washing machine leaks and burst hoses can quickly overcome floor drains and catch pans, causing thousands of dollars in water damage in a short amount of time. The threat is compounded when units are located on upper floors and in apartment buildings. When an unexpected leak occurs, the results can be:
• Increased insurance premiums and possible reduced coverage
• Lost property and equipment
• Massive disruptions to homeowners and tenants
• Thousands of gallons of wasted water
---
Don't let this happen to you!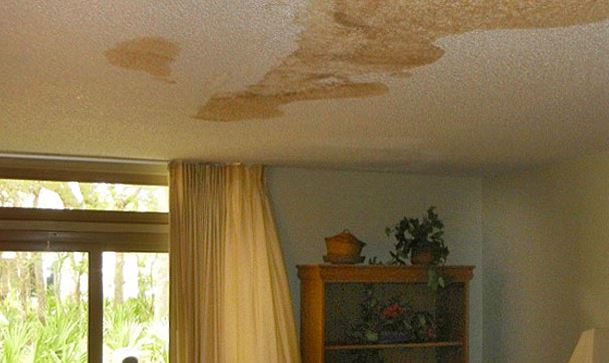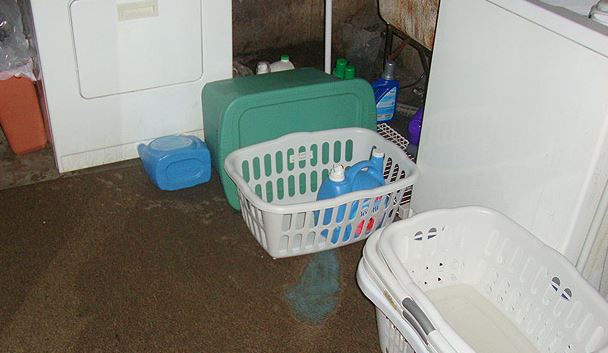 When the sensor detects a leak, the system will signal both the hot and cold feed lines to automatically close. The red LED lights up and an audible alarm sounds. The easy push-button reset restores the water flow after the leak has been addressed.
---
---
ORDER INFO
FLOODMASTER Model RS-090-E - Washing Machine Leak Detection & Auto Shut-Off System
Item # RS-090-E....$329
---