The BeckettLink® tank gauge is mounted on an available opening on the top of the fuel storage tank. It senses fuel level every 4-1/2 hours and transmits the data via dedicated Bluetooth® signal to the BeckettLink® hub. The hub converts the signal from the gauge to a data 'cloud' through an available WiFi connection.
A smart phone or tablet app can also be used to view fuel level, set alerts for when the fuel level is getting low, get alerts if the indoor temperature drops too low (if enabled), share information with others, and even find and connect to any BeckettLink participating dealer.
---
FEATURES
Tank level can be accessed from a mobile device anywhere

150 ft. gauge to hub range

Works on tanks up to 72" diameter

Standard Lithium battery in gauge with up to 10 year battery life

More accurate and reliable than a float gauge

Multiple gauges can be connected to a single hub

Tank adapter for 2"NPT and 'Euro' style tank fitting
---
Dealer Info
Dealers can utilize a web-based Dealer Dashboard to combine all their customers' tanks and other devices linked to the BeckettLink® hubs.
Dealer Benefits
Remote monitoring of customers' tanks. Gives customers 'peace of mind'

Faster response to changes in demand

Maximize delivery gallons

Reduce delivery frequency

Better solution for longer distance routes or remote customers

Automatic delivery solution for customers with alternative heat sources such as wood / pellet stoves, heat pumps, and space heaters
---
Tank Gauge Installation Video
---
Note: INTENDED FOR USE WITH COMBUSTIBLE PRODUCTS. NOT FOR USE WITH GASOLINE, LP GAS, OR ANY OTHER FLAMMABLE PRODUCTS. SEE INSTALLATION INSTRUCTIONS.
BeckettLink Connected Tank Gauge - Complete Kit
---
The gauge provides a reliable connection with a range of 150'+ and a 10-year estimated battery life and is designed for use on both indoor and outdoor tanks. The BeckettLink Tank Gauge communicates every 4.5 hours to update fuel information in the cloud that can be accessed by dealers and customers on mobile devices at anytime and from anywhere.
---
Approved Fuels:
-Fuel Oils
-Kerosene
-Diesel fuel
-Renewable Diesel Fuel
-Biodiesel and Biodiesel blends
-Motor oils & gear oils

Dimensions Tank Gauge:
-4 1/2" High Overall
-3-5/8" High – Installed
-3-1/8" Diameter

Power Supply – Gauge
-3VDC Lithium battery CR123A
-Battery life – Up to 10 years
-Communications distance gauge to hub = 150ft

Tank Adapter:
-2″ MPT w/ Flange to fit 'Euro' tanks
-Height: 1-7/8″ Overall | 5/8" Flange to Top
-Diameter: 3-3/8″
-1-1/2″ MPT & 1-1/4″ MPT Adapters available (Sold Separately)
---
The myTechnician™ Mobile Application
The myTechnician™ mobile app monitors fuel tank levels and allows customers to track fuel usage and get notified when it's time to fill up.
Features: free to download on Apple Store and Google Play; allows users to set up and register their gauge and hub; set alerts including freeze alert, low fuel level, hub connection lost, and more; and stores installation data, warranty dates, and other useful tank information; capable of communicating with myTechnician-compatible devices and presenting diagnostics and troubleshooting information related to them.
Download Free
Product Info
BeckettLink Tank Gauge Installation and Instruction Manual
BeckettLink WiFi Hub Installation and Instruction Manual
BeckettLink Tank Gauge Warnings
---
ORDER INFORMATION
BeckettLink Connected Tank Gauge - Complete Kit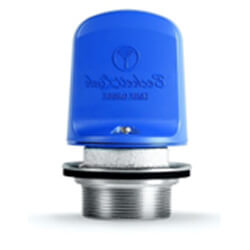 Complete Kit contains:
1) Ultrasonic tank gauge sensor

1) WiFi Connection Hub w/ 120VAC power adapter

1) Tank Adapter for 2" NPT or 'Euro' tank installation Quick Start Guides and Hardware
Item # BLCTG....$239