Sonin Water Alarm w/ Remote Sensor protects your home or business from costly water flood damage by placing anywhere a potential water leak exists -
 near or beneath sump pumps, plumbing, refrigerators, dishwashers, washing machines, sinks, water heaters, toilets, basements and garages. Available with relay output too!
For leak detection: Just place the Remote Sensor at the lowest point of the floor or other horizontal surface where water collects. The adhesive tape makes it easy to apply sensor to any smooth vertical surface and the alarm will sound if water bridges between the two contacts. The alarm can be table, shelf, or wall mounted away from the sensor.
The Sonin Water Alarm w/ Remote Sensor is also good for unattended filling of bathtubs, pools, spas, etc. Sensor has suction cup and adhesive; use either to attach the sensor to any vertical surface. The buzzer on the Sonin Water Damage Alarm with Remote Sensor will sound when the water reaches both metal contacts on the sensor.
Detects water and sounds loud 85 dB alarm
Sensor and alarm can be placed up to 6 feet apart
Sensor has both suction cup and adhesive to secure in place
Includes alarm mounting hardware
Install battery easily with slide and snap cover
Space saving design
Circuit test button ensures system is working
Low battery signal tells user when it's time to replace the battery
Warns of leaks and overflows in bath, kitchen, laundry, attic, basement, or anywhere there is a potential for leaks to occur.
Alerts user within hearing range that water has reached desired level when used to monitor the filling of pools, tubs, sinks, aquariums and more
An ideal backup system for sump and bilge pumps in residential, commercial and marine applications
Battery Type: 9 Volt Alkaline (not included)
Attention condo and apartment owners:
The Water Alarm with Remote Sensor can be placed the A/C over flow pan to prevent major problems when the A/C units clog up and destroy floors and then run down to other floors, condos or apartments. The prongs can be dangled over the side of the pan hanging about a 1/4 to 1/2 inch over the bottom of the pan so that when excessive water comes in contact with the prongs the alarm is sounded and the problem is found before it overflows.
Water Alarm With Remote Sensor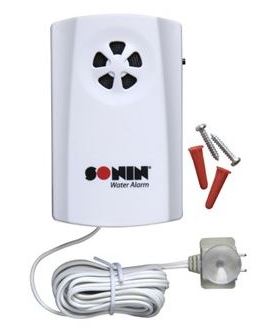 Rear View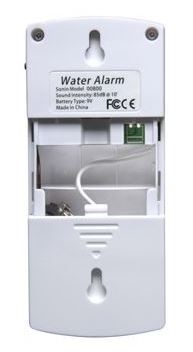 Remote Sensor
Easy Installation!
ORDER Sonin Water Alarm With Remote Sensor #SONWA...$16.99
Need a relay output?
The Sonin Water Alarm With Remote Sensor is also available with a Built-In Relay Output!
Built-in Modular Relay Output enables you to connect additional devices that can also be triggered in the event of a leak (i.e. a light beacon or an auto dialer).
(Max Power DC 24V 1A; AC 150V 0.5A. The relay cannot effect any device with voltage and amperes that are above this range)
Water Alarm with Relay Output