Options and Accessories:
WS2100 Flow Meter Kit with Well Sounder 2010 Pro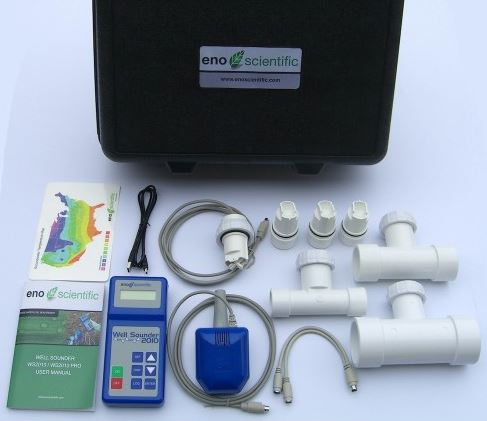 The Well Sounder and the WS131 Flow Meter are also available together in the WS2100 Flow Meter Kit.
The Eno Scientific WS2100 Flow Meter Kit combines all the instrumentation needed to perform a complete well draw down test. Starting with our popular sonic water level meter, the Well Sounder 2010 PRO, with its built-in data logger and USB computer connectivity. Add the new Eno Scientific WS131 Flow Meter with a variety of housing sizes and you are ready to start drawdown testing.
Our flow sensors come with Well Sounder compatible cables which eliminate the hassles of wiring multiconductor flow meters and supplying external power. The WS131 Flow Meter simply plugs into the Well Sounder 2010 PRO and it is ready to go. The Well Sounder's proprietary self calibration routine makes the process simple.
Complete groundwater monitoring begins by turning on the Well Sounder 2010 PRO, enabling the data logger and performing your drawdown test. The Well Sounder will record the static level and the pumped volume at an interval of your choosing between 1 second and 60 minutes for the duration of your test. When the test is complete, connect the Well Sounder 2010 PRO to your computer with the included USB cable. A window pops up with the data file which can be imported into Excel and graphed or printed and simply attached to your report.
The kit comes complete and ready to go including:
- Well Sounder 2010 PRO with probe
- WS131 Flow Meter
- Accessory Splitter
- USB cable
- 3 Flow Meter Housings 1″, 1.5″, and 2″
- 3 Plugs with Retaining Nuts
- User Manuals, Quickstart Guide and Groundwater Temperature Map
- Heavy Duty Carrying Case
WS2100 Flow Meter Kit with Well Sounder 2010 Pro....#WS2100....$1899
--SORRY, TEMPORARILY UNAVAILABLE --
---
WS2100 Flow Meter Kit without Well Sounder 2010 Pro....#WS2105....$850
--SORRY, TEMPORARILY UNAVAILABLE --
---
Accessories
---
Accessory Splitter
Connect multiple devices to your Well Sounder or Well Watch in addition to the probe, such as the flow meter or analog output adapter. (Included in the Flow Meter Kit). Part #5220...$29
--SORRY, TEMPORARILY UNAVAILABLE --
---
10' Probe Extension Cable
Extend the reach of your probe by 10 feet. Part #5201-10....$29
--SORRY, TEMPORARILY UNAVAILABLE --
---
Plug-in 120V AC Power Adapter
This cable allows you to power your Well Sounder or Well Watch by plugging it into a standard power outlet. Part #5300....$19
--SORRY, TEMPORARILY UNAVAILABLE --
---
Breakout Adapter
This adapter provides screw terminals to allow the Well Sounder to connect to industry standard flow meters with switched or TTL level inputs, it also allows connection to the Well Sounder's 0-5 VDC alarm output signal. (Also requires the Accessory Splitter)....#5205...$79
--SORRY, TEMPORARILY UNAVAILABLE --
---
Analog Output Adapter
This adapter produces an analog output signal, both 0-5volts and 4-20ma, or the 0-5volt alarm signal from the from the Well Sounder. (Also requires the Accessory Splitter)....#5206....$189
--SORRY, TEMPORARILY UNAVAILABLE --
---
Flow Meter Housing Plug
This plug is used in the flow meter housing when the the housing is permanently installed and the flow meter sensor is not being used. (3 are included in the Flow Meter Kit)....#5425...$15
--SORRY, TEMPORARILY UNAVAILABLE --
---
Flow Meter Housings
The flowmeter housings are used with the flowmeter sensor to measure water flow. The housings can be permanently installed then left in place and plugged when the test is completed. (1 ea of 1in, 1.5in, and 2in are included in the Flow Meter Kit)
--SORRY, TEMPORARILY UNAVAILABLE --
| | | |
| --- | --- | --- |
| 1" PVC tee | #5431 | $88 |
| 1.5" PVC tee | #5433 | $83 |
| 2" PVC tee | #5434 | $94 |
| 3" PVC saddle tee | #5436 | $138 |
| 4" PVC saddle tee | #5437 | $143 |
| 6" PVC saddle tee | #5438 | $160 |