New From the Fuel Minder Store!
View your water tank level wirelessly from your home or building at distances up to 100m away from the tank. Plus get room temperature, tank temperature, time, and also store min/max records and set alarms for specific water levels (high/low) or when empty!
Installed at the top of your water tank, the transmitter unit measures the water level and temperature using an ultrasonic sensor.
You can hang the receiver unit on a wall, or pull out the stand and place it on your kitchen bench top, table or desk.
---
FEATURES:
Transmission range up to 100m (free field)

Tank level/depth (0.5m to 15m)

Air Gap (0.5m min) See note below*

Time display (12/24hr)

Time alarm mode

Indoor temp. display (°C/°F)

Tank temp display (°C/°F)

Tank level display (meters/feet)

Water level displayed on a 10 element bar graph

Min. & Max. records for indoor & tank temp.

Tank level alarm mode (high/low)

Tank empty alert

Low battery indicator

Tank level updated every 30 seconds or 3 mins

Wall mount or free standing LCD display

Battery power: receiver 2 x AA 1.5V (not included), outdoor transmitter: 6 x AAA 1.5V (not included)

Dimensions:Receiver: 106(L) x 97(W) x 24(D)mm, Sensor diameter: approx 47mm (1.85 in.)

3-Month Warranty
SUPPLEMENTAL INFORMATION
Click for INSTRUCTION MANUAL
Click for DATA SHEET
Click for QUICK START GUIDE
The Ultrasonic Water Tank Level Meter with Thermo Sensor
Gives you a digital display of water level, tank temperature, indoor temperature, time, plus adjustable Hi/Lo alarms.
Information And Feature Packed LCD Display
---
ORDER INFO
Ultrasonic Water Tank Level Meter with Thermo Sensor...item #UWTL-01...$79
CLICK TO ORDER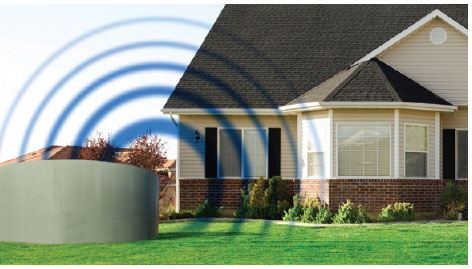 ---