Protect and monitor your vacation home, cabin or cottage, even when you can't be there! Doing so is made easy and convenient with the use of a Sensaphone 400.
It is a monitoring system for your residence that is managed via your telephone.
It will detect potential disastrous problems and monitor environmental conditions, calling out up to four different numbers when there is a change or abnormal condition; it also allows you to remotely control devices via your telephone or cell phone.
It is simple to install, program and operate; no changes to standard electrical or telephone service is required.

Power failure, Sound Level, One temperature sensor included

Fully-programmable system offers extensive remote monitoring and control capability via telephone

Calls out up to four phone numbers to notify you of abnormal conditions

Built-in temperature, noise and power failure sensors, along with a microphone for listen-in monitoring

Four hardwired inputs available for other home security and environmental sensors

One hardwired relay output for controlling a thermostat, lights, appliances or other low-voltage relay
Want fuel monitoring too? Check out our Complete Fuel Monitoring System below!
The 400 has a built-in ability to monitor for power failures and to listen to the sound of a smoke detector. There are also four external inputs that can be connected to a variety of sensors to monitor temperature, water on the floor, humidity, and much more. One of the four external inputs already comes with a temperature sensor for monitoring temperature where the 400 is installed.

When an alarm is detected, the Sensaphone 400 can notify up to four people by making voice phone calls. It will continue to make phone calls until someone responds to the call. The voice messages can be custom recorded, so you get to describe each alarm message that it speaks in your own voice. The phone interface includes a line seize feature so that extension phones are automatically disconnected when it needs to make an alarm phone call.

A built-in output relay is provided to switch an external device either automatically, or manually. You can use it to have a local light or siren trip when an alarm occurs, or even to set off a local alarm when the phone line is cut or unplugged. You can even use it to control a dual setback thermostat to change the temperature remotely. Also includes nonvolatile memory and a 24-hour battery backup with user installed batteries.
SENSAPHONE 400 COMPLETE FUEL MONITORING SYSTEM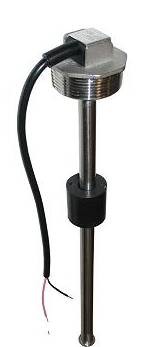 Now monitor fuel levels and temperature by phone with the complete Fuel Minder Store Sensaphone 400 Fuel Monitoring System (now that's a mouthful!)
System includes:
2.8k-ohmMagneto Resistive Fuel level Sensor
all parts required for installation
The 2.8k-ohm output emulates a 2.8k-ohm thermistor and is compatible with controllers such as the Sensaphone-400 or Sensaphone Web-600, providing fuel level monitoring and control via phone (display shows 0-100% FUEL LEVEL).
(Standard vertical and horizontal tank sizes available--Contact Us for custom size tanks
An unbeatable system for anyone who desires phone monitoring and control capability!
SENSAPHONE 400 OPTIONAL SENSORS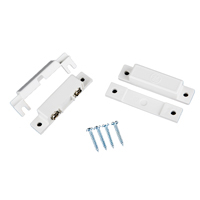 The magnetic reed switch may be used with all Sensaphone models to detect any unauthorized entry or intrusion. They are usually installed on doors and windows to detect their opening and closing. Several magnetic reed switches may be wired in series.


The passive infra-red motion detector can be used with all Sensaphone models to monitor the movement of warm bodies in a specific area. It will cause an alarm if motion is detected. Its range of detection covers approximately forty feet of area. Multiple sensors can be wired in series to a single input.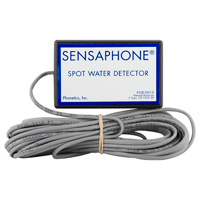 The water detection sensor can be used with all Sensaphone models to detect the presence of water on a horizontal surface. Independently powered by internal lithium batteries. The batteries should last for approximately 3-5 years. When the batteries start to run down, the sensor will automatically cause an alarm dial out when no water is present. Multiple sensors can be wired in series to a single input.