The ideal high level warning device for your tank!
The Model 40 Overfill Alarm is designed to warn of tank level overfills in any type of tank or vessel. The tank may be installed above or below ground in the vertical or horizontal position. Due to the versatility of this alarm the Model 40 may be used for various applications ranging from small waste oil tanks to large bulk facilities. The Model 40 Type W is suitable for outdoor mounting of control box (weatherproof box).
ALARM SILENCING CIRCUITRY FOR INTERNAL AND/OR EXTERNAL AUDIBLE DEVICES
INCLUDES AUXILLIARY CONTACTS FOR ACTUATING A REMOTE HORN OR VISUAL ALARM-(200w max.)
SELF DIAGNOSTIC CIRCUIT, INDICATOR LAMP, AND HORN TEST MODE
AUTOMATICALLY RESETS - HYDROSTATIC PRINCIPLE USES NO MOVING PARTS
STEEL NEMA 4 ENCLOSURE & EXPLOSION PROOF PRESSURE SWITCH
95dB PIEZOELECTRIC HORN
IDEAL FOR ANY LIQUID STORAGE APPLICATION
WEATHERPROOF
MADE IN THE USA
Overfill Alarm Tank Assembly Detail
How does it work?
The tank overfill system is fully automatic, has no moving parts or electricity within the tank and operates on the principles of hydrostatics. The sensing device for the alarm system is an open ended air bell and equalizing line that is installed at the top of the tank. This device (Tank Assembly Unit) is connected to a pressure switch via ¼" and 3/16" O.D. tubing.
As a rising liquid level covers about ¾" of the air bell, the increase in pressure of the trapped air activates the pressure switch which in turn activates an audible and visible alarm.
The audible alarm is silenced by a pushbutton silencing circuit and the visible alarm automatically resets when the liquid level drops below the air bell. An alarm test pushbutton permits verification that the alarm circuits function correctly.
The System Consists of the Following: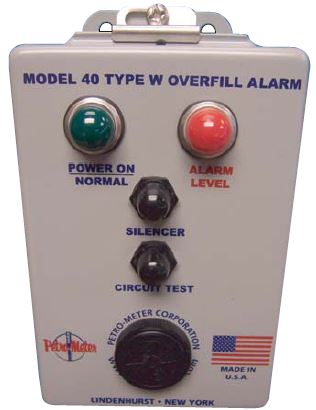 The Alarm Unit: Consists of a control box complete with 2 status lights (Green/Normal- Power on; Red/Alarm), audible horn, relay, silencer and test pushbutton switches and printed circuit board.
Pressure Switch and Tank Assembly
Pressure Switch: Explosion-proof and weatherproof switch intended to be mounted at the tank top. Connected electrically to the alarm box by 3 wires and pneumatically to the tank by transmission and equalizing lines.
Model 42 Tank Assembly Unit includes a 1" NPT coupling for a length of pipe to be added to whatever length necessary to meet user's desired actuation level. This downpipe is not provided. The user will need to obtain a length of downpipe to be set approximately 1" lower than the desired liquid level actuation point.