The Morrison 718 liquid level gauge is designed for measuring liquid level in an above ground storage tank containing diesel, fuel oil, oil, and used (waste) oil. Both a standard version and gasoline-compatible versions are available.
The gauge has also been approved for anti-freeze, brake fluid, windshield washer fluid, and automatic transmission fluid. The 718 mounts on top of the tank and is activated by a float connected to a cable.
Easily adjustable for any size tank up to 72".
---
FEATURES:
2" male NPT threads

Measurement readout in inches

Accommodates tank depths up to 72". Reads 0" at empty and your tank height at full

Easy float length adjustment (1" or 2" increments)

Vapor space sealed to prevent lens fogging

UV resistant measurement tape

Approximately 12" of extra cable to accommodate installations with riser pipes

Body: cast aluminum

Spring: 301 stainless steel

Float: Polypropylene and aluminum (Standard Version), Aluminum (Gasoline compatible version)

Shaft bushing: stainless steel

O-ring: Viton®

Cable: 30# braided microfilament

Lens cover: Lexan

*Do not use with schedule 80 pipe
---
Morrison 718 Gauge Installation Video
---
Click for Installation Instructions PDF
Morrison Bros 718 Liquid Level Gauge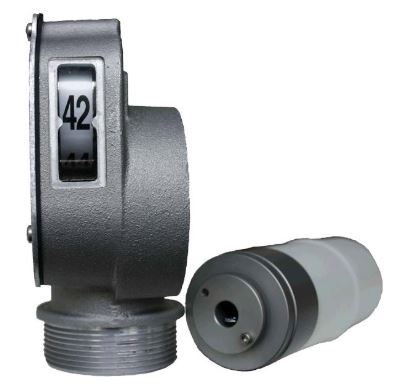 Heavy duty durable construction for accurate, reliable, long term service
---
Two Models to Choose From:
Morrison Bros 718 Liquid Level Gauge for 2" tank openings - Standard Float - reads in inches
Order #MOR718-STD...$159
---
Morrison Bros 718 Liquid Level Gauge for 2" tank openings - Gasoline Compatible Float - reads in inches
Order #MOR718-GAS...$229
---
Morrison Bros 718 Liquid Level Gauge