The Leak Guardian Flood Prevention System detects leaks and automatically shuts down the water supply
What happens when any component of a domestic water system becomes compromised and gives "in" to water pressure is pretty straightforward and unvariable: an uncontrolled and often catastrophic flood.

Leak-Guardian® JUST SHUTS IT DOWN!
What makes Leak-Guardian® Systems so effective is our innovative approach to uncontrolled flooding from any potential source. However it originates, whatever it is that has failed, Leak-Guardian® JUST SHUTS IT DOWN!
Your investment in Leak-Guardian® will reward you with even greater efficiency and piece of mind as your system to covers all these potential sources of uncontrolled flooding:
Sinks.
Toilets.
Saunas.
Hot tubs.
Ice Makers.
Dishwashing Machines.
Refrigerators with Built-In Water Dispensers.
...and the list goes on.
The simple nature of the "blanket" protection that Leak-Guardian® can offer your property is possible thanks to our innovative and patented wireless sensor technology:
The unique advantage of a Leak-Guardian® System can be attributed to the wireless sensors of each installation. This small but powerful transmitter module has the capability of broadcasting a signal that will effectively shut a water supply line down the instant that water is detected underneath it. The signal transmitted can travel up to 150 feet and is impervious to walls, floors, ceilings and any combination of common building materials (wood or masonry).
Additionally, the two 1.5V lithium batteries that power these sensors can last for long periods of time. The reason: they do not expend power unless they come in contact with water.
Lastly, each sensor is equipped with an 8-PIN Channel Selector Switch allowing the user to install as many additional sensors as desired.

Watch Leak Guardian Video
Leak-Guardian® Motorized Ball Valve Assemblies are available for either 3/4" or 1" IPS water main supply lines. These full port ball valve assemblies will effectively close the water supply in a fluid and controlled motion within 2 to 3 seconds of being energized. They are designed to eliminate the dangerous effect of "water hammering" that can be caused by "snapping" the flow of water through a supply line shut abruptly, the way that a solenoid valves does.
The installation of a Leak-Guardian® Motorized Ball Valve Assembly should be completed by a licensed plumber. The sensors can then be placed wherever they might be most effective in detecting an uncontrolled flooding event in early stages.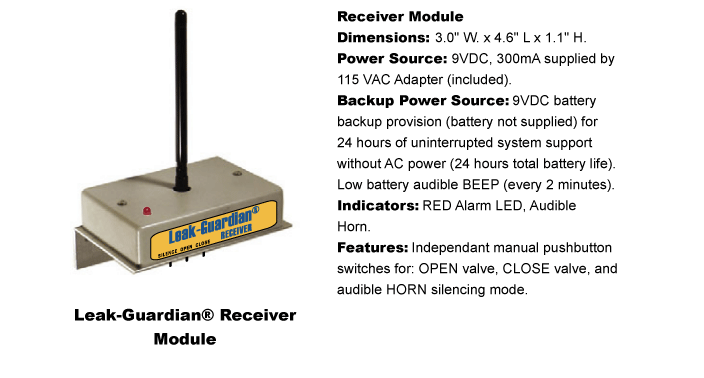 The RF receiver module continuously scans a radius of 150 feet for signals from any sensor within range that may be reporting an alarm status. Upon receiving a sensor signal, this module commands the motorized ball valve assembly to close thus interrupting water flow through the main supply line. In this condition, the receivers's audible piezoelectric horn will sound and its ALARM mode LED indicator lamp (RED) will illuminate confirming the ALARMED system status. With this condition acknowledged, the user may depress the SILENCER pushbutton to eliminate the audible alert and proceed to inspect the premises for the sensor that has produced the signal.

Each sensor incorporates an ALARM mode LED indicator lamp (RED) as well. This module also features a battery backup provision (9V battery not supplied) that will continue protecting your home for approximately 24 hours of continuous operation without AC power. Additionally, the receiver will sound a low battery warning beep approximately every 2 minutes if it detects that the 9V battery is depleted or not installed.

The receiver module can always be viewed and used as an automatic water supply "control unit" allowing users to OPEN or CLOSE their water supplies with ease at the touch of a button. With a Leak-Guardian® System, simply identifying the receiver module and depressing the CLOSE pushbutton will accomplish this goal.

Leak-Guardian® Systems are highly customizable to serve as water detectors only (no actuating ball valve features), or to include isolated contact provisions for commanding pumps, tripping alarm system contacts or any other auxiliary device.

Complete Package for Leak-Guardian System Includes: Valve Actuator, Master Control Receiving Unit and Single Leak Sensor/Transmitter . Additional transmitters available.

---

---