Use the AD-2000F automatic voice dialer as a stand-alone verbal reporting system for any N/O or N/C alarm sensor or to add voice dialing capability to most alarm systems
Easy to use and install. Calls you when there is a problem on any phone(s) you want. Reliable operation in a compact, unobtrusive dialer completely compatible with any security alarm system.
A Full Featured Security System with 4 Independent Voice Message Dialer Channels

4 Separate Outgoing Messages

Automatically Calls up to 8 telephones or cell phones

Listen-In verification and 2 way communication

Built-in Line Seizure

Listen-In verification and 2 way communication

EEPROM Memory retains program despite power loss

Remote reset feature allows termination of activated channel

Universal Dial Tone - Works with any analog phone system

Built-In Auxiliary Output to drive external siren, strobe or relay
Includes 12vdc Power Supply
The AD-2000F dialer features busy-line and no-answer detection to ensure prompt transmission of up to 4 prerecorded messages delivered sequentially to as many as 8 standard telephones, cellular phones, voice and/or numeric pagers. Messages to both local and long-distance calls can be transmitted. When activated, the dialer instantly begins calling the numbers in sequence, delivering each message 1 to 3 times in a row, in accordance with the preselected number of dialing attempts.
Perfect for residential, commercial or industrial applications, the automatic dialer is designed for direct, immediate notification of emergency situations using any regular phone line. This 4 Channel version, delivers customized recorded messages to the phone, cell or pager numbers of your choice.
The AD-2000 is extensively programmable, offering personalized customization to fulfill virtually any residential or business requirement. Plain-English prompts walk the user through the process in a timely manner.
Applications:

The unit can also function as a stand-alone device, by simple connection to an ordinary telephone jack. Installation and hookup are quick and easy, whether installed in conjunction with normally open, normally closed dry contact or voltage activation sensors.
Solidly reliable and affordable!
AD-2000F COMPLETE FUEL MONITORING SYSTEM
This complete system gives you instant notification of high or low fuel levels to the phone(s) of your choice
Complete System Includes:
AD-2000F 4 Channel Automatic Voice Dialer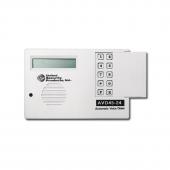 (Standard vertical and horizontal tank sizes available--Contact Us for custom size tanks)
Includes power supply and all parts necessary for complete installation
OPTIONAL SENSORS

Looking for an affordable way to monitor critical
temperature settings? The F20 is always reliable, easy
to install, and provides a standard dry contact output
so there's no need to worry about compatibility issues.
· Fixed Temperature Type
· Closed Circuit Detector Opens at 40° F
(Variance of +/- 5°F)
· Contact Rating 24VDC-120mA
· Automatic Reset
· UL LIsted and CA State Fire Marshall Approved
Water Level Sensor

· NO/NC Capability
· Activates with presence or
absence of water
· Detects water leaks before
becoming a major problem
· Detects low water condition on
floor, in fish tank, etc.
· Easy install to Automatic Voice
Dialer, just attach wires.

· Detects loss of Power (110VAC)
· Dry Contact Output
· Automatic Reset
· SPDT