The Smart Oil Gauge™ measures the level in your tank throughout the day and transmits this information over your home's Wi-Fi network. Monitor your fuel levels on your smart phone from anywhere. Plus, track your oil consumption daily, weekly, monthly or annually!
Tank low? Don't worry!
The Smart Oil Gauge™ will send you a text to let you know it's time to order oil.
FEATURES:
The Smart Oil Gauge fits into a 2" NPT opening on the top of a tank. (Please note that the outer diameter of a 2″ NPT pipe is not 2 inches, but actually closer to 2-3/8 inches).

Adpaters available for Roth Tanks too!

Wi-Fi signal at the tank is required. To check, just walk down to the tank and bring your smart phone, tablet, or laptop. See if you have internet access by opening up your browser. If the connection is not great, consider purchasing a Wi-Fi range extender.

For indoor or outdoor use. There are two caveats for outdoor installations:
1) The cap will have to be sealed with Teflon tape to prevent moisture ingress.
2) The readings should be expected to fluctuate a bit with temperature
changes.

The Smart Oil Gauge takes two Saft LS14500 3.6 V lithium ion AA batteries, which are readily available online.

The sensor currently supports standard 275 and 330 gallon above-ground tanks and Roth 400L, 620L, 1000L and 1000LH tanks.

*Not compatible with Roth 1500L tanks

For multiple tanks- Multiple Smart Oil Gauges can be operated at the same location

Install yourself in minutes. No electricians, plumbers, or technicians are needed for installation.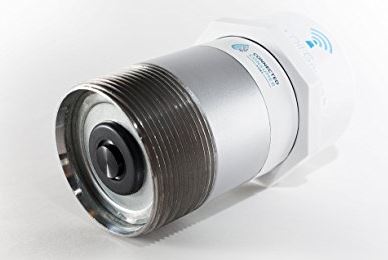 ---
Free iOS App! Download in the App Store
The Smart Oil Gauge iOS App allows users to check their fuel oil levels and usage patterns quickly and easily from their iPhone or iPad. In order to use the app, users must already own a Smart Oil Gauge and have an active account linked to that gauge. Users can also manage sensor settings and notification options from the App.
We have now made it possible to export your Smart Oil Gauge tank readings right into CSV format. Just log into the My Tanks page, and you'll see the Export Data link at the bottom. You can now compare your oil usage with your thermostat settings over the past winter and see where you've been able to conserve energy.
---
Check out these NEW features for the Smart Oil Gauge
Ask Alexa! The Smart Oil Gauge skill is now available in the Alexa App - click below and add it as a skill. The Smart Oil Gauge skill allows our users to ask Alexa how much heating oil they have in their tank, and how much oil they are burning.You can use these prompts:
Always begin by saying "Alexa, ask Smart Oil Gauge..." to initiate the skill. You can then follow-up with shorter questions, such as "When will we need oil?"
---
Also NEW!
Attention Android users - our Android App is live! We've now got mobile Apps for both iOS and Android users, and of course you can always check your tank level from our website on any web browser. Use the links below to get the App on Google Play or on the App Store.
---
The Smart Oil Gauge™
Monitor your fuel levels from your smart phone!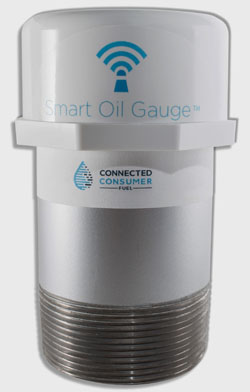 Simple installation on your tank and easy setup on your phone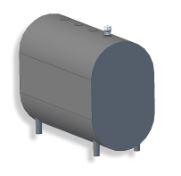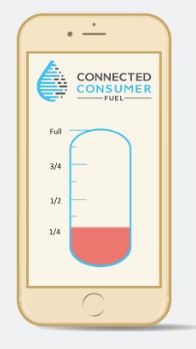 No need to go to the tank anymore!
---
ORDER INFO
---
The Smart Oil Gauge™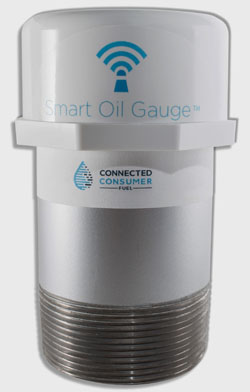 SALE PRICE!
Item #SOG100.....$169
---
ACCESORIES ORDER INFO
---
The Smart Oil Gauge™ Adapter for Roth Double Walled Tanks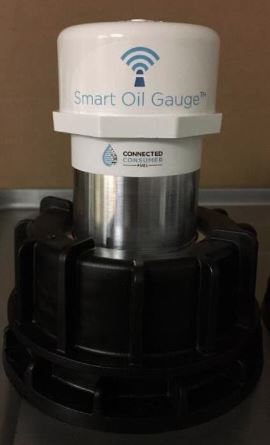 For use with Roth 400L, 620L, 1000L and 1000LH tanks.
*Not compatible with Roth 1500L
Item # CCF-906........$35
---
The Smart Oil Gauge™ Adapter for tanks with 1.5" NPT fittings
Adapter allows Smart Oil Gauge to be installed on tanks with 1.5″ NPT fittings
Item # CCF-905........$35
---
---