The BAYweb Thermostat and Tank Level Monitor System enables you to monitor and control your thermostat AND monitor fuel tank levels, temperature, motion sensors and more, from anywhere through your PC, smart phone or tablet device.
This energy-saving Internet Thermostat features a secure home monitoring system that alerts you in case of heating/cooling issues as well fuel levels, sump pump failure and even break-ins
FEATURES:
Alerts you by email and mobile phone.

Set up alerts for high or low fuel levels and temps, as well as the ability to add additional environmental sensors

Comprehensive energy management reporting, analysis, and alerting functions as well as setting energy threshold alerts

Can be used with 2-heat/2-cool and/or heat pump systems

Supports unlimited X 10 wireless motion sensors, and three wired alert inputs

Allows for indoor temp, outdoor temp, motion sensors and more (only Bayweb sensors supported by manufacturer)

No Recurring Costs

Use Existing Wiring

Plug and Go Networking

Keypad lockout feature for web only operation

Reports in Fahrenheit or Celsius

Clock - Synchronized with NIST Atomic Clock (+/- 1 second)

Accuracy - 1° F

Power Requirements - 24 VAC 0.5 Amp maximum, or 120 VAC, 60 Hz, 0.25 Amp maximum

Module - 7.5"W x 5.65"H x 1.2"D

Thermostat - 4"W x 5"H x 5/8"D

Saves money and energy
---
BAYweb Internet Thermostat - Sample Installation
---
Click here to see the
---
Thermostat Keypad Functions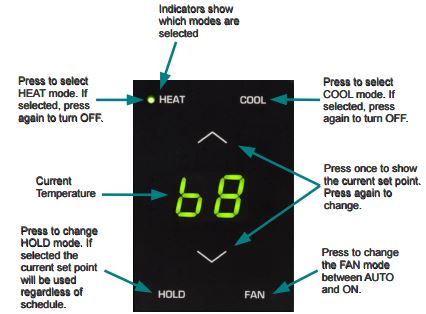 The BAYweb Thermostat and Tank Level Monitor System
Complete system for controlling your thermostat and monitoring fuel levels and temperature via the web
BAYweb controller and display unit
Along with analysis and reporting, you can set up your thermostat to alert you if the energy usage ever exceeds a specified threshold; a great feature for building managers, landlords, and vacation home owners.
SIMPLE INSTALLATION- Install by yourself and connect to the Internet in less than 30 minutes. No networking expertise needed.
DUAL POWER OPTION The thermostat can be powered from the furnace/AC if equipped with a "C" wire, or from a standard outlet. No batteries required.
The BAYweb Professional model also supports the ability to add these specialized, optional features:
Identify an open door or window and shutdown the system.
Outside temperature sensor (requires a BW-TEMP OUTDOOR)
Allows for up to four indoor air temperature sources.
Average temperature control for up to four areas (requires temperature sensors).
Temperature monitoring and alerting for up to four inputs (requires temperature sensors).
Scheduled and remote relay control for up to two Relays
Motion sensors
---
Screen shot showing tank level at 50%