Product Description
Afriso DIT 01 Digital Tank Level Indicator
The modern alternative to pneumatic and mechanical level indicators
For fuel oil, diesel fuel, and bio-oil
The DIT 01 digital tank level indicator is designed for continuous level measurement in basement tanks containing fuel oil. The complete level measurement system consists of the display unit with a 4-digit LCD digital display (plus extra symbols!), a submerged probe with an electronic measuring cell, connection cables and mounting accessories. The system is designed for fast and safe installation.
DIT 01 features the following:

* Universal application in tanks with up to 3 m in height or diameter.
* No dip charts required since all standard tank shapes are stored.
* Fast and safe mounting with complete installation accessories.
* No external supply voltage required.
* Push-to-read function for extremely long battery service life.
* High accuracy of measurement due to electronic sensor (pressure measuring cell).
* Display unit with easy-to-read display.
* Simple operation via menuguided set-up procedure.
* Connection cable of the display unit can be extended by up to 10 m.
DIT-01 COMES WITH:
Control unit with digital display
5 m connection cable to probe (can be extended by up to 10 m)
Moisture-proof junction box
Submersible probe with 5 m submersible cable
Screw connector kit G1 x G1½ x G2
Mounting kit for withdrawal flange (PG 9 gland)
Wall mounting
Made in Germany
Afriso DIT-01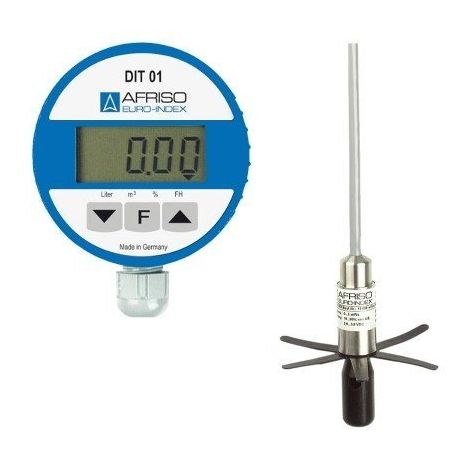 Displayed Values:
Litres, m³, %, and liquid level in mm
DIT 01 is suitable for use in containers and tanks with a filling level from 0.9 to 3 m. No tank chart values need to be entered since all standard tank shapes are stored in the device. Comprehensive additional liter scales are no longer required. The pressure measuring cell obtains a high measuring accuracy of +/- 1.5% FL. DIT 01 provides a menu system for maximum ease of use. The "Push-To-Read" function assures that the measured value is only displayed when it actually needs to be read, thus assuring a service life of the included 3.6 V lithium battery of approx. 5 years. Even under adverse light conditions, the 7 mm LCD display ensures that the litre or cubic meter values are easy to read. An external power supply is not required.
Functions: Push-to-read, selection of units,
calculation of total volume
Measuring range: 0/300 mbar (4.35psi)
Display: 4-digit, 12 mm high LCD 7-segment display with additional symbols
Measuring accuracy: ±1.5 % FS

Submersible Probe
Housing: Stainless steel 303
Cable: PVC, 5 m with breather tube
Diaphragm: Ceramics
Seals: FKM (Viton)
Spacer: POM, PE

Supply voltage: 1 x lithium battery 3.6 V (included)
Battery Service life: approx. 5 years
---
ORDER INFO
Afriso DIT- 01 Digital Tank Contents Indicator - complete kit....#52122...$289
SUPER BLOWOUT SALE PRICE! NOW ONLY $189