The Krueger Sentry Alarm gauge is the most economical way you can have a High Alarm or Low Alarm, or Overfill Alarm Gauge ALL-IN-ONE!
Alarm Gauge Detail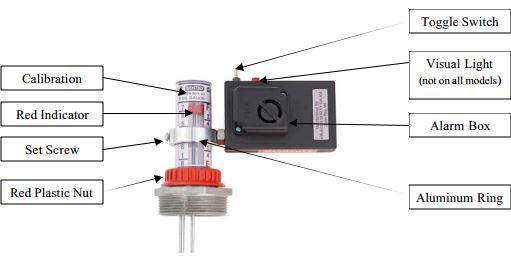 Attain a visual indication as well as an audible indication of your tank level using only one fitting on your tank. No more worries about not being able to hear your vent alarm. At 110db, this overfill alarm will make you stand up and take notice. Plus, it can be ordered with an optional set of dry contacts. An easy inexpensive solution to all of your audible liquid level tank alarm needs.
FEATURES:
The new Audible Tank Alarm fits the Kreuger Sentry Float Gauge. (sold separately). Cost effective and easy to maintain.
This item can provide High Liquid Level Alarms, Overfill Tank Alarm, Leak Detection Alarm, Low Level Alarm, and Interstitial Alarms.
Powered by a 9 volt Lithium Battery.
Magnetic Switch triggers a 110 DB alarm/light/dry contacts.
Can be reset even while in alarm mode.
Test Switch allows you to test the battery before each use.
All Alarms come with a 9 volt Lithium Battery and Magnetic Indicator.
Remote Alarms come with 25 feet of remote wire.
Remote Alarms also come with a weather tight connector 12 inches from the alarm box which allows you to easily run the wire through conduit and other small openings.
Dry contacts can handle up to 2 amps of resistive or inductive load
Weather resistant, semi-waterproof (cannot be submerged)
Alarm is intrinsically safe - see the intrinsically safe documentation
Made in the USA
---
---
Need a Krueger Sentry Float Gauge to go with your Krueger Sentry Alarm Gauge?

Direct Mount Tank Alarm Gauge Configurations:
Mounts directly to float gauge on the tank
Audible alarm only
Flashing light only-The flashing light will visually alert and continue until reset. (this version has no audible alarm)
Audible alarm and flashing Light-an audible alarm with an added flashing light and time‐out feature. The light will alert when triggered The time‐out feature will shut down the alarm after 20 seconds to save on battery life, but the light will continue to flash and the alarm will chirp every few seconds.
Standard dry contacts* with flashing light
Audible alarm, dry contacts* and flashing light
*See the Alarm w/ Dry Contacts User Guide
************************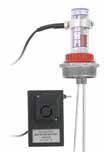 Remote Mount Tank Alarm Gauge Configurations:
Mounts anywhere within 25' of the tank (longer hookup wire is available see order info
Choose from:
Audible alarm only
Flashing light only-The flashing light will visually alert and continue until reset. (this version has no audible alarm)
Audible Alarm and Flashing Light-an audible alarm with an added flashing light and time‐out feature. The light will alert when triggered The time‐out feature will shut down the alarm after 20 seconds to save on battery life, but the light will continue to flash and the alarm will chirp every few seconds.
Standard dry contacts* with flashing light
Audible alarm, dry contacts* and flashing light
*See the Alarm w/ Dry Contacts User Guide
************************
Optional Relay Switch available for connection to dry contacts for either gauge. Can then be used to trigger a switch on your own system, thus turning a pump on or off, triggering your
own alarm, etc… Handles up to a 1/2 h.p. motor