The Krueger at A Glance Liquid Level Indicator is a reliable, swing arm type tank gauge used for measuring all types of liquid levels. Its simple mechanical design promotes durability, minimal upkeep, quick installation, and easy/inexpensive repairs.
FEATURES:
A premium quality float gauge. Use alone or use with Kreuger LED At A Glance Remote Readout or with the Krueger Alarm Gauge
The Krueger Direct Read Float Gauge allows full control of the swing arm direction
27" gauge available for horizontal tanks
44" gauge available for vertical tanks
Custom lengths available from 6" to 144"--please call to order
2" NPT Krueger gauges in stock. 1.5" NPT available --please call to order
Can accommodate pipe risers, vaulted and double wall tanks
COMPLETELY CUSTOMIZABLE! See Available Options and Alarm Options
Installation Instructions:
When installing, unthread the red nut and remove the calibration and bushing. Thread in the bushing first. Drop the gauge through the center hole, make sure your swing arm is facing in the direction you want. Replace the calibration and tighten down your red locking nut.
Instructions for Operation:
The top of the red indicator is an indication of your approximate fuel level in your tank. Once installed, you simply view the calibration to monitor your tank level. Indicator is calibrated in eighths of a tank on one side, and quarters of a tank on the other as well as Gallons and Liters.
---
ACCESSORIES
Need to repair your Krueger Gauge?
All in one kit replaces all the non metal components on top of the gauge.

Easy inexpensive way to fully repair your Krueger Sentry Tank Gauge.
Order # H-KIT...See ORDER INFO
---
Alarm Options:
Need a remote reading tank level display?
Turns the direct reading Therma gauge into a wired remote reading gauge.
---
How about a high or low level alarm?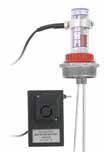 Audible/Visual alarms that mount directly to the gauge, or that can be remotely wired and provide your choice of overfill or low level warnings.
---
Click for ORDER INFO
Kreuger Sentry Galvanized Direct Reading Gauge
The Krueger Direct Read Float Gauge has plastic calibration, HDPE floats, galvanized steel rods, and aluminum bushing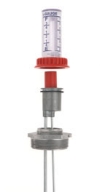 This tank gauge has an easily removable bushing which allows you to thread the bushing into the tank first. Then drop the gauge in and tighten up the red nut. This allows you to aim the swing arm precisely where you want it, and eliminates the swing arm spinning inside the tank while you are threading the indicator in.
Click for ORDER INFO
---
AVAILABLE OPTIONS
Krueger Direct Read Float Gauge Optional Construction Materials: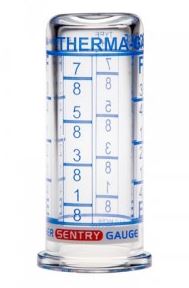 Offers much better resistance to sun damage, heat, weathering, chemical fumes, and more.
Eliminates the discoloration and cloudiness that can sometimes occur with the original plastic tops.
Will not warp, no matter how much heat and sun you expose it to.
Holds up better when exposed to more aggressive chemical conditions, such as acids, caustics, high ethanol E85, Bio Diesel, etc.
Order # SGC...See ORDER INFO
---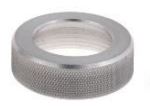 Replaces the red lock nut for added durability
Order # ALN...See ORDER INFO
---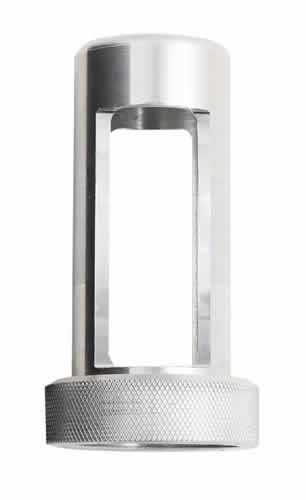 Ultimate damage resistance.
Covers the plastic or glass calibration and replaces red lock nut on Krueger Sight Gauges.
This feature makes these level gauges virually indestructible to physical harm
Aluminum lock nut (above) is built right into this part
Added durability for your sight gauges.
Order # ALG...See ORDER INFO
---
Stainless steel rods and/or stainless steel floats with aluminum bushing CONTACT US
---
---
1 5/16" aluminum 5-hole bolt-on flange* or 1 5/16" steel flange (CRS) for welding or soldering* CONTACT US
*click for 1-5/16" flange spec. sheet
---