The Krueger at A Glance Liquid Level Indicator for Gasoline is a reliable, swing arm type tank gauge. Its simple mechanical design promotes durability, minimal upkeep, quick installation, and easy/inexpensive repairs.
FEATURES:
ACCESSORIES
Need to repair your Krueger guage?
All in one kit replaces all the non metal components on top of the gauge.
Easy inexpensive way to fully repair your Krueger Sentry Tank Gauge.
Order # H-KIT...See ORDER INFO
Need a gauge guard to protect your gauge sight glass?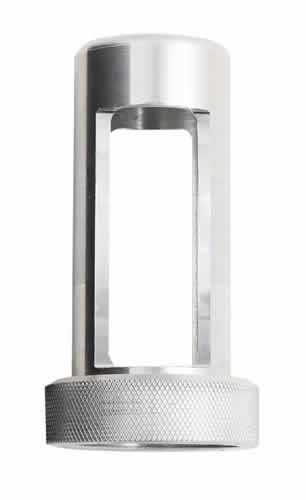 Ultimate damage resistance
Covers plastic calibration and replaces red lock nut on Krueger Sight Gauges
This feature makes our level gauges virually indestructible to physical harm
Aluminum lock nut (above) is built right into this part
Added durability for your sight gauges.
Order # ALG...See ORDER INFO
Kreuger Sentry Galvanized Direct Reading Gauge for Gasoline
The Krueger Direct Read Float Gauge for Gasoline has Glass Calibration, Nytrophil float, Galvanized steel rods, and Aluminum bushing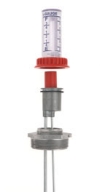 This tank gauge has an easily removable bushing which allows you to thread the bushing into the tank first. Then drop the gauge in and tighten up the red nut. This allows you to aim the swing arm precisely where you want it, and eliminates the swing arm spinning inside the tank while you are threading the indicator in.
---
ORDER INFO
Kreuger Sentry Galvanized Direct Reading Gauge for Gasoline - 2"NPT Tank opening - Glass Calibration and Nytrophyll Float.....$79
Order #H-2-xx
(xx = specify tank depth from 6" to 144" and include riser height, if any)
---
OPTIONS
Krueger Direct Read Float Gauge optional construction materials:
Stainless steel rods and/or stainless steel floats with aluminum bushing
Peek plastic rods with PVC bushing
1 5/16" aluminum 5-hole bolt-on flange available
1 5/16" steel flange for welding or soldering available