The Wireless IP Webcam needs no computer to interface to the internet. Simply connect to your router or ethernet connection.
Easily monitor areas important to you such as home, office or workshop right from your computer. Alternately, use the IP Webcam to monitor your fuel level and temperature gauges as with our Rube Goldberg Special System, or pair it up with one of our controllers such as the IT Watchdog. Works great even in low light!
Product Description:
Image Compression Format: M-JPEG standard

Image Resolution: VGA(640x480) / QVGA(320x240)

Sensor: 1/4 inch CMOS, 300,000 Pixels

Light frequency: 50Hz, 60Hz or Outdoor

Audio compression: ADPCM

Lens: f: 3.6mm, F:2.4 (IR Lens)

Data rate: 802.11b: 11Mbps (Max.), 802.11g: 54Mbps (Max.)

Ethernet: One 10/100Mbps RJ-45

Viewing angle: 67°

Horizontal Rotating Angle: 0~270°

Vertical Rotating Angle: 0~120°

Alarm Mode: motion detection alarm and I/O alarm

Video Display: Microsoft Media Player

Image Transfer Velocity: 30fps@VGA


Minimum Illumination: 0 LUX

Video Format: AVI

Network Interface: Wi-Fi/RJ-45 10-100 Base T

Network Protocol: TCP/IP, FTP,SMPT, HTTP, ICMP, PPPoE

Security: User management system, password protection

Working Condition: -10°C~ 50°C , 20% - 80%PH

Power Adapter: DC5V/2A 50/60Hz
The Wireless IP Webcam includes a motion detection function which can be set to trigger an alarm or send email notification with pictures captured. You can also record video instantly, or program a pre-set record time.
Use the pan and tilt feature to "see" around the spaces that matter to you!
Rear View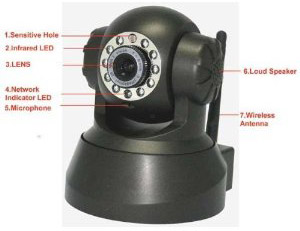 Features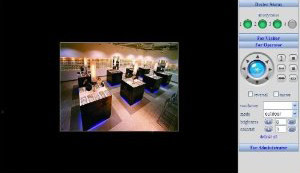 Sample Screen View With Webcam Control Panel
Technical Details
Package includes: 1 x IP camera,1 x Antenna 1 x Base, 1 x Power adapter, 1 x Network cable, 1 x CD, Screws
Full 12 month warranty!
System Requirement: CPU: 2.0GHz or above, Memory: 256M or above, Network Card: 10M or above, Display Card: 64M or above
Operating System: Windows 2000/Windows XP/Windows 7 (Works under both Apple MAC and Safari).

---

ORDER INFO
Order #IPWBCM...$89