Alice is an easy-to-install home oil tank gauge that connects to your wifi and lets you read your tank level on your
phone or tablet and receive notifications when your tank is running low.
Before Alice, you had to make regular trips down to the basement to check your oil level. Maybe your tank is located in a difficult-to-access crawl space or accessible only through an outdoor bulkhead. Or maybe you're managing a home from afar.
Now you can get the information you need with just one tap and avoid an unexpected empty tank in the face of severe winter weather or a house full of guests.
---
FEATURES
Compatible with 275 and 330 gallon horizontal and vertical tanks. Contact us if
you have a different size tank and we may be able to add it for you

Fits tank openings with a 2" NPT or 1 1/2" NPT diameter

Alice App is available for both iOS and Android devices

Compatible with Alexa

Uses advanced laser technology to measure your oil tank level automatically every six hours

Uses 2 AA lithium metal batteries

Requires the tank to be within range of a WiFi network

For Indoor or Outdoor use. Includes a waterproof cap for outdoor use

Limited 2-Year Warranty

For use in the USA and Canada only. To operate, Canadian users will need to enter any USA address (for use in completing initial setup only)
---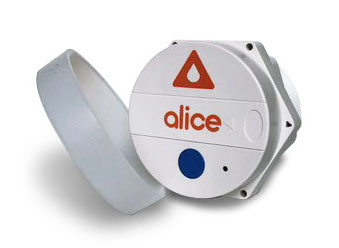 Alice with Protective Cover
---
How Alice Works in 3 Simple Steps
1. Install the Alice gauge on your tank in less than 5 minutes. No professional installation or special tools required.
2. Download the Alice app and connect your gauge ID to your app account.
3. Get notified when your tank is running low, or check your tank level on the app whenever you want.
---
CLICK HERE FOR MORE INFORMATION ABOUT ALICE
---
ALICE 4.0 WiFi Heating Oil Gauge
---
Alice is a Home Oil Tank Gauge that connects to your wifi and lets you read your tank gauge from your phone
---
Use the Alice App to Check Current Status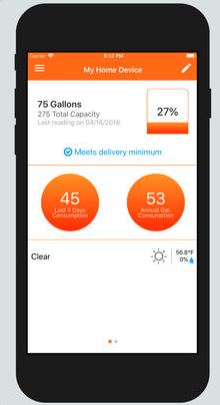 ---
And Check Usage History
---
Use the Alice Metrics App to see how much oil you have in your tank on your phone or iPad.

With the Alice App you can:

- See how many gallons is left in your tank
- Get notifications when you're running low or have met the delivery minimum for on-demand oil providers
- View your historical oil consumption and tank level
---
ORDER INFORMATION
ALICE 4.0 WiFi Heating Oil Gauge
Item # ALICE4.0 - ...$139
BATTERIES NOT INCLUDED
(fits both 2" and 1 1/2" NPT tank openings)
---
BATTERIES
Item # ALICE1.6 - Lithium 1.6v Batteries for Alice 4.0 (Pack of 2)...$12
---
Item # ALICE3.6 - Lithium Metal Battery for Alice 1, 2, and 3 (Pack of 2)...$12
---
---
A small footnote: where did the Alice company name come from?
No, it has nothing to do with Alice in Wonderland, or going down the "tank" hole. Alice is named to honor Alice Parker, an unsung African American woman who received a patent in 1919 for the design of a gas fired central heating furnace. Her design was the first to use natural gas as a household fuel and changed the way millions of people heat their home but, unlike Mr. Willis Carrier and Mr. Dave Lennox, she has no company in her name and has received no popular credit for her invention. She has nearly vanished in history. We are proud to honor her work by naming our device after her.
Alice lets you take control of your heating oil tank

The Alice gauge is compatible with the following tank types. For indoor or outdoor tanks:

Standard Vertical (275 and 300 Gallon)

Standard Horizontal (275 and 330)

Roth Tanks (275 and 400)