A simple hard-wired LPG monitor that's economical, reliable and easy to install. No need to go outside and check the tank anymore! Install in a convenient place, such as a kitchen, laundry room or garage. With a simple push of the button, you can check the tank level and call when levels are low.
FEATURES:
Fast and easy installation
Complete with 20' Cable ready to connect to any R3D Remote Ready Dial.
Extendable with 50' Cable Extension Kit - see ORDER INFO.
6 LED indicators give tank levels in 20% increments
Easy to read display activated by push button.
Mounting bracket and AAA batteries included.
Simple fool-proof design gives long lasting service.
 For use with large DOT Cylinders, including 420#, 200#, 100# and 50#
For More Info See: INSTALLATION INSTRUCTIONS
( Dial face not included)
NOTE: For the LP Gas Remote Monitor to work properly, you may need the Dial Face that attaches to the gauge on your propane tank. This product only works with liquid-draw propane in home heating tanks.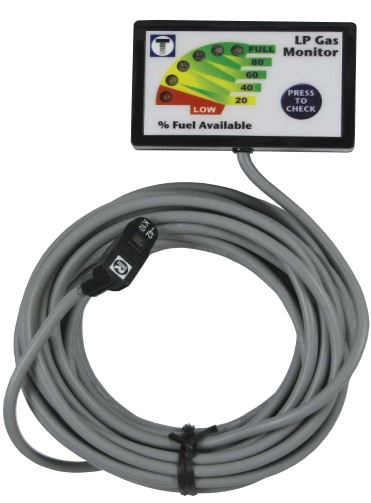 ************************
Need a dial face for your LPG Monitor?
R3D Dial Face For The Taylor Products LP Gas Remote Monitor*
If you don't already have a compatible R3D dial face that attaches to the gauge on your propane tank, then you will need this dial. The remote monitor will connect to this dial face.
Order Separately If Needed:
for VERTICAL Tanks
or HORIZONTAL Tanks
*Both Junior and Senior gauge sizes available